OUR WELL-WISHERS
Today, Mahashakti caters for 500 women in 3 work sheds allotted to the organization by the State Government, in the Gas affected area. Block printing and Zardosi, are the main trades. We are thankful to our well-wishers, without them, we could not have been survived.
The pillars of MSK
The stalwarts and stewards whom we need to thank, are actually the pillars of strength for Mahashakti Seva Kendra. MSK owes immensely to these persons who have helped shape up the organization. Indeed, we need to follow the footsteps of the great women who had helped us profoundly, especially our ever beloved Mother Teresa and Late Smt. Indira Gandhi. Currently our immense gratitude goes to Mrs. Sonia Gandhi also. The entire group of women at MSK are very grateful to Shri Arjun Singh, who understood our needs and had greatly helped us to see our vision come true. Currently, the burden of our mission at MSK, squarely lies on the shoulders of his son : Shri Ajay Singh, who has taken up this whole move as a challenge. He is our constant source of strength and protection. We would also want to proudly thank :Shri Ramesh Agarwal,Chairman,Bhaskar Group of Publications for his perennial guidance and huge support in the corporate world; we have never returned disappointed from his doors. And, our thanks to all those who have always in one way or the other helped us at every course of our action. And all your great deeds always leave an indelible impression at Mahashakti Seva Kendra !
We are thankful to Shri Arjun Singh Ji, the HRD Minister and the
Central GovernmentHuman Resource Development for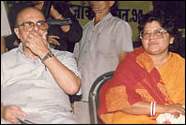 given us the project and all the assistance.
A special thanks to Shri Ajay Singh our young MLA, who has been
our real friend, and a great supporter of our organization.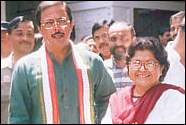 Without him we could not have survived.